Get pre-approved. Sub-primes may be history, but you'll probably still be shown homes you can't actually afford. By getting pre-approved as a buyer, you can save yourself the grief of looking at houses you can't afford. You can also put yourself in a better position to make a serious offer when you do find the right house. Unlike pre-qualification, which is based on a cursory review of your finances, pre-approval from a lender is based on your actual income, debt and credit history. By doing a thorough analysis of your actual spending power, you'll be less likely to get in over your head.
Choose your mortgage carefully. Used to be the emphasis when it came to mortgages was on paying them off as soon as possible. Today, the debt the average person will accumulate due to credit cards, student loans, etc. means it's better to opt for the 30-year mortgage instead of the 15-year. This way, you have a lower monthly payment, with the option of paying an additional principal when money is good. Additionally, when picking a mortgage, you usually have the option of paying additional points (a portion of the interest that you pay at closing) in exchange for a lower interest rate. If you plan to stay in the house for a long time—and given the current real estate market, you should—taking the points will save you money.
A Few Words from Local Lenders:

Buying a home is often the most expensive purchase you'll make in your lifetime. It makes sense to get the perfect type of loan for our personal situation. Our first conversation will be about your different options and what works best for your individual needs. I'm going to take the time to learn what your goals are regarding home ownership and how I can play a role in helping you achieve those goals!
At MB, we offer a wide variety of loan products with the most competitive rates in town. We also service our loans after the closing. Many lenders sell your loan to another lender before your first payment is due. At MB if you have questions about your loan, you call me, we seek clients, not just loans. I have over 29 years of experience and I'm always available to discuss how I can help you move into the home of your dreams!
Whether you use MB for your loan or not, call me and lets talk options!
Patsy Hilton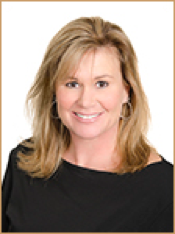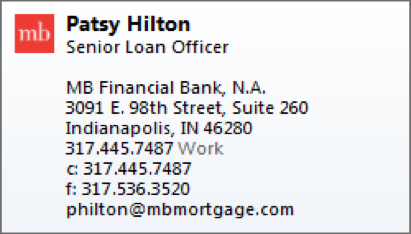 ******************************************************************************
The mortgage industry speaks another language. I remember going through the home-buying process for the first time thinking how fortunate I was to understand the ins and outs of the biggest investment of my life, aside from college. That's why I do what I do. I'm your advocate. I am the link between your story and underwriting. If your financial and credit package makes sense to me and I would give you money out of my own pocket, I will find a way to get you a loan!
In the education field, I lived for the epiphany moments on my high school students faces, and for the past 26+ years, I've lived for hearing the excitement of my client's voices when I call to say, " You're Approved"! To me, it's more than getting a loan; it's a home for your family. I want that for you!!
The industry has changed quite a bit over the past couple of years, adding new rules and regulations. I am a firm believer in communication; keeping all involved on the 'Same page' from start to finish, and beyond. TEAMWORK has become an even more important factor in getting you to the closing table on time! I sincerely consider you to be my Boss, and am constantly striving, along with my business partner Marena and Team, to please!!!
If you ever have questions, want payment scenarios, or wish to entertain the many loan programs available that we can tailor to match your needs and goals, please know that I am always just a quick call or text away; looking forward to, and welcoming your call.